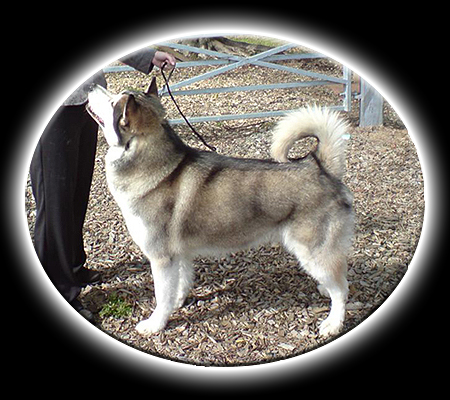 D.O.B 06/06/2004
Hip score: 3/3
Eyes clear Sept 2010
Blaze's Story
How Blaze came into our life!!!
Blaze was the first born out of Dakota's litter; he came into this world at 1.15pm on 6th June 2004 weighing 1lbs 4oz.

Blaze had a striking face, and even though he was not the same colouring as his dad, he reminded us very much of him……………so we called him 'Baby But'!!!!!!

He was definitely the bottom of the pack; he never confronted the other 2, and just let them get on with it, he is such a lovely natured boy!!!
He was my mum's favourite, and if we hadn't kept, I think we would have been trying to talk my mum out of keeping him!!! Malamutes are not for everybody, and I knew, we would get the blame for everything if she had of kept him.
It was a hard decision on what puppy to keep, neither of the prospective owners knew until the very last minute which puppy they were having.
We had to match the puppies to each family, and make sure that they would all fit in.
Sharon Loades came and assessed them at 8 weeks old to what she thought would be the best puppy for us, as a show dog, and she picked Blaze. He did move lovely whenever we saw him trotting around the garden. With a lot of talking and talking and talking we decided to keep Blaze!!! But as the days came nearer to letting the other pups go to their new homes, it became so hard, harder than I thought!!!! If we had not been 100% that they were going to the right homes, the pups just would not have left the house!!!

Blaze has been enrolled into his dog class 'Dogs Naturally' for Obedience, and he has been doing very well. He passed his Bronze Kennel Club Good Citizen at Alaskan Malamute Club Show in May 2005, We are 2nd from the left..............Blaze is wanting a cuddle again!!!!


Recent News Blaze has now completed his KC Silver Award at 'Dogs Naturally' on Wednesday 8th February 2006 at age 20 months, we are so proud of him. Now we have to start working towards his Gold, that shall be fun!!!
In December 2005 Blaze completed his first Husky Rally and he absolutely loved it!!!! So we hope to carry on and work him, please see Blaze's Working Results