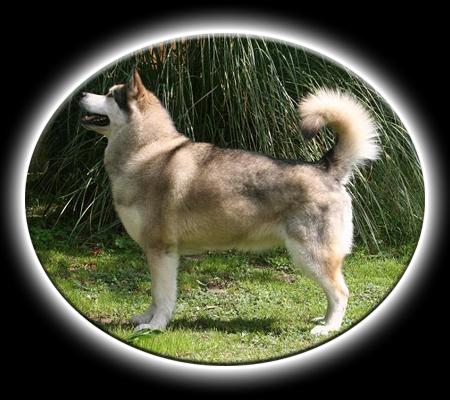 D.O.B 21/01/2001
Hip score: 7/7
Eyes clear Sept 2010
DAKOTA'S STORY
How Dakota came into our life!!!
When Flynn & Hollie came to the age about 5, we decided that we would like another Malamute. What we were after, was another member to add to our family, but also we would like a show quality bitch, and maybe in the future to breed from her. As we now had the knowledge, of the breed lines in the UK, we wanted most of all a dog with good temperament, type and movement. With a lot of waiting we were final offered a Bitch from Sharon & Mark Loades (Snowolf Website)
Dakota has been an absolute pleasure to own, and has done really well in the show ring, please see all her results below.
In 2004, at the age of 3, we decided to have a litter, from her. This was a bit scary, as we have never done this before. With a lot of guidance and help from friends, we got on with our plans. This was not just the breeding of 2 dogs, but a military operation, and we spent several months, if not a year preparing for every eventuality!!! I will go into more depth, under 'Breeding Information'. Dakota was an absolutely fantastic mum, very good with the pups, and left us very little to do for the first few weeks.
Dakota first gave birth to 'Baby But' we named him after his dad, then she had a girl, and she had a little star on her forehead, so we called her star. Then a few hours later she had a seal & white boy, we called him 2 spots.