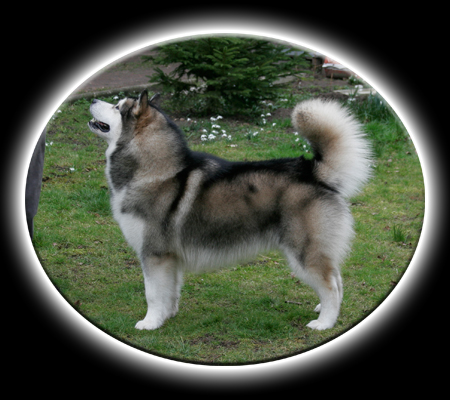 D.O.B 15/02/2007
Hip score: 4/3
Eyes clear March 2014
Long coat gene: Carrier
Polyneuropathy : DNA Normal
Tuk's Story
After the loss of Hollie and Flynn April 2006 we were looking to increase the pack size and decided that we would like a nice Show/Stud Dog and family member. Over the years of owning Alaskan Malamutes we had looked at dogs abroad but not seriously as there were at the time huge restrictions on importing a dog into the UK.
In 2005 I traveled to the US to go the breeds National Show, so that I could see what dogs there were in the US, and to see them in the flesh. When I got back to the UK I followed up my research of the dogs that I liked in the US. The dogs that I had liked I researched some more, and was not overly impressed with some of the dogs that had been produced. Our friends Nicola & Stuart were importing two dogs from Mountain Home and we were really impressed by this kennel. We looked into the pedigree's and noticed many went back onto Williwaw lines.
Due to the up heave of our jobs and moving counties we decided not to breed from Dakota, so we were now very much focused on getting another dog. Although whatever dog we were to get we thought that it would be nice to get a stud/show dog and thus we contacted Mary Jane Holabach.

We were very fortunate and Mary knew of a litter that was due in Feb 2007, and the breeder was coming to Crufts, so we were able to meet her. After the arrival of 'Grey Boy' now known as 'Tuk' I very much wanted to go and visit him, and meet the rest of the 'Akaila' aka Evensen family. Jason decided to stay at home and dog sit, so I asked my friend Jo to see if she would like to come with me.
We had such a great time, and were taken to see 'Tuk Senior' and his owners Robert & Dolores they had some very beautiful dogs. We also went to visit Tina & Brent Robbins, and had a fantastic time talking and watching them with their dogs. On our final day we then went to meet Mary Jane, and we were able to go through all of the photo albums and watch the latest national video with commentary from Mary Jane.
I would like to Thank Robert, Dolores, Tina, and Brent & Mary Jane for making our trip such a memorable one and for making us feel so welcome. I will cherish the time we had with you guy's and you are most welcome to come and visit us anytime in the UK.
The trip would have not been possible if was not for Dorrit, Mike & Weston who welcomed us into there home and made our visit so special - Thank You Guy's - You have such a super family. The best part of the trip was playing with the pups, and spending time with canine and human family, and having lovely home food prepared by Mike & Dorrit.
I also got to go to my first baseball match and had great fun watching Weston, and learning the rules of the game - I want to come back now to watch Weston's team win again!!!
Jo and I also got to go and visit Janet and be part of the puppy temperament testing. This was a good few hours and we learnt quite a bit about the puppies, and what type of personalities they had and what type of home they were suited to go to.